President
Mr. Andre Provoncha is presently Principal Owner of GSD LLC. GSD provides onsite Senior Technical Advisers to government and commercial clients. Andre has over 35 years of military, commercial, specialized academic, and leadership experience. He was a military planner, information operations officer, and strategic communications advisor. He is currently providing Joint Test Expertise within the Department of Defense (DoD). Mr. Provoncha was an instructor at Air University and received a Masters of Arts International Relations, Calif. State University, Stanislaus. Retired in 2003, Andre has over 30 years of U.S. Air Force aviation experience. His military career includes planning and coordinating during OPERATION DESERT STORM, OPERATION ENDEARING FREEDOM, andOPERATION ENDEARING FREEDOM TRANS SAHARA. Andre became a private pilot in 1987.
Founder, former President of WASP
With over 4,000 hours flying time in six different USAF fighters, Tuck flew 265 combat missions in Vietnam receiving 2 Distinguished Flying Crosses and 12 Air Medals. A graduate and instructor at the USAF Test Pilot School, Tuck was one of 5 test pilots that performed developmental tests in the early stages of the F-16 program. Tuck is a graduate and Instructed at the USAF Fighter Weapon School where he served as the Chief of Academics and Deputy Commandant of the School.
After retiring from the Air Force, Tuck worked for 17 years at the Lockheed Martin Aeronautics Division in Fort Worth, Texas as the engineering manager for F-16 upgrades and, later, a vice president for International F-16 Programs. The proud owner of a Swearingen SX300, Tuck has logged over 2,400 hours in a variety of general aviation aircraft. He received is private pilot license on his 17th birthday and has continued to fly for the last 61 years.
Tuck knows how important it is start early to make flying a career. He helped to create WASP so community high school students could get a shot at a dream career in aviation. He served as the President for three years and now acts as a board member and special advisor to WASP.
I started my interest in aviation back in elementary school with talking to my Uncle who was a WW2 vet flying F4U Corsairs. I was interested in model airplanes, balsa kits and later u-control airplanes but realized that I really wanted to fly myself. My first intro flights were in high school and later in college I took a few flying lessons before the funds ran out, but the aviation bug was firmly planted. I later joined the Navy and went through flight school in Pensacola FL and later joined an F-14 Tomcat squadron and flew off the USS Nimitz. My aviation career then turned towards engineering and I earned a Masters in Aeronautical Engineering at VA Tech while I was an NROTC instructor there. From the Navy, I went to work for Lockheed Engineering at NASA Langley doing aero research. Now I'm in commercial construction and fly for business and recreation and am a part owner in a Diamond DA40 and fly out of Williamsburg. I joined the board for WASP 4 years ago and enjoy giving students a chance to get into the aviation world through learning to fly and having another outlet to talk all things flying.
Colonel, Virginia Air National Guard, retired
2017 President of the Board of Directors, WASP. Before I can remember, I wanted to fly! I started flying lessons in 1974 (age 16), and eventually became a Private Pilot. After college, I entered US Air Force pilot training and graduated into an F-16 assignment. I flew the F-16 for 25 years, and then was again fortunate to transition into the F-22 Raptor for my last year and a half of service. Since retiring with 27 years in both the active duty and Air National Guard, I continue to fly light aircraft for enjoyment. I hope to encourage today's youth to follow in my path and become pilots for life. So, 2017 is my 43d year of flying, logged over 4,600 flight hours, and I'm not ready to stop flying yet!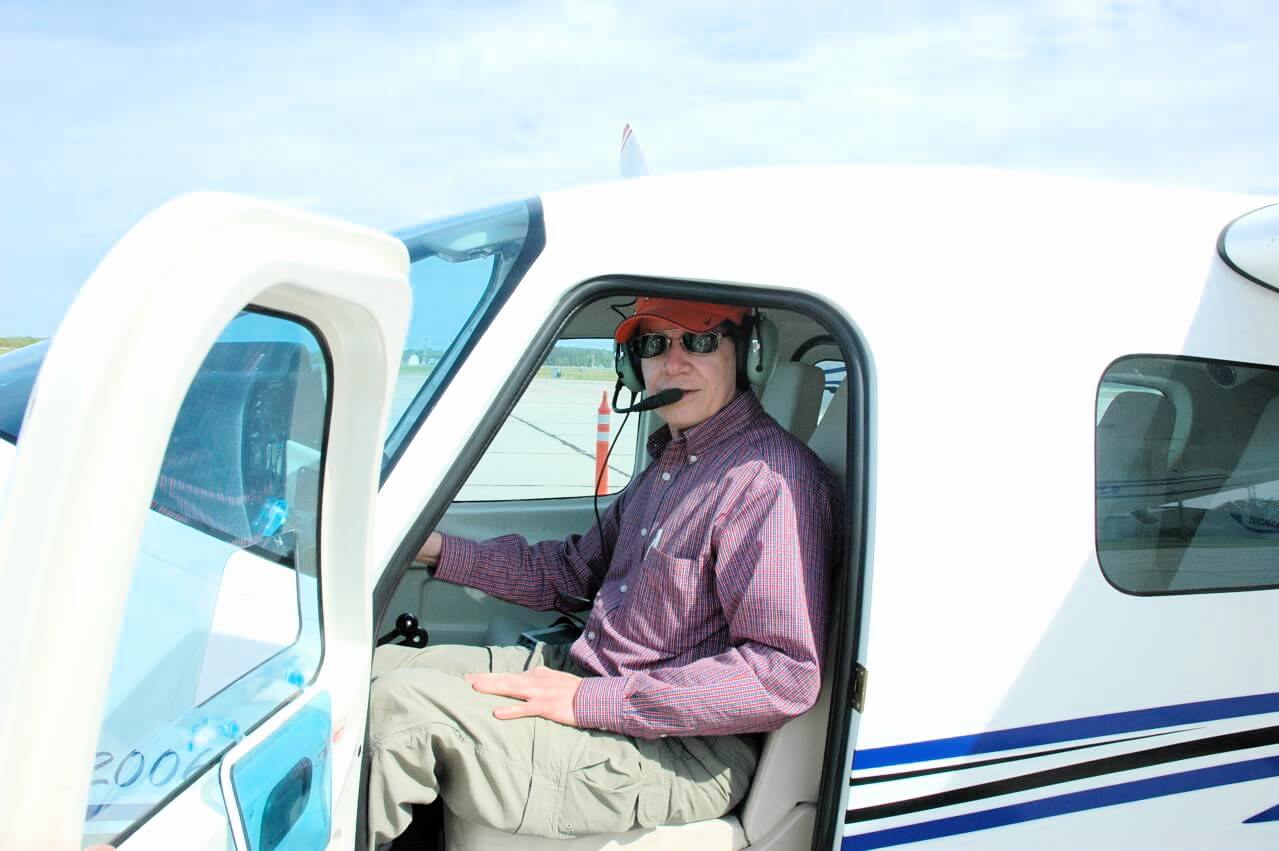 WASP Treasurer
Gerald (aka "Gerry") took an introductory flying lesson in his junior year of college….45 years later he finally got his private pilot's license. He began flying after he retired from two careers: first in banking/finance (30 yrs) and then in commercial property management (14yrs). Gerry was never able to follow up with further instruction after his intro flight - for the same reasons WASP is trying to eliminate for our high school students.
Missing out on many years of flying opportunities, Gerry knew of the difficulties - money, studies, family, career, life, that get in the way of flying. He hopes that his involvement in WASP will help alleviate some of these obstacles for our local high school students and that they will choose aviation careers. Earning their private pilot license before graduating from high school certainly gives them a big head start in pursuing aviation careers. Plus, they are all great kids & fun to get to know. Gerry lives in Newport News with his wife, Bette. He has three children and four grandchildren.
Colonel, Virginia Air National Guard, retired
I'll never forget the man who taught me how to fly. Charlie Wilkerson was a gruff old man at my local airport. I remember being so proud the day I came to see him after graduating from the Air Force Academy to tell him I was flying jets in the Air Force. I could tell he was also proud. I've been fortunate enough to have been flying jets ever since. As an F-16 pilot, I lived in northern Japan, Phoenix, Las Vegas, South Korea and Germany, and flew in many interesting places like Iraq, Singapore, Poland, Qatar, Spain, Saudi Arabia, Thailand and Turkey. For nine years, I flew the F-22 at Langley, until just recently retiring from the Virginia Air National Guard. Now I am an American Airlines pilot flying the Airbus A320. It's hard to describe just how fun, exciting and rewarding it's been to be a professional pilot. Everyday has been a new challenge and a new adventure. I would encourage any teenager who loves airplanes and wants to be a pilot to follow their dreams and start by earning a private pilot license. I truly believe it's the greatest job in the world!